New User Interface – 2022
| Category | Topic | Job Aid | Video |
| --- | --- | --- | --- |
| Request | Entering a Request - Day Trip | PDF | video |
| Request | Entering a Request - Overnight Trip | PDF | video |
| Request | Entering a Request - Blanket Travel | PDF | |
| Expense | Create Expense Report | PDF | video |
| Expense | Creating Itinerary - Per Diem & Hotel Allowance | PDF | video |
| Expense | Import Credit Card Charges | PDF | video |
| Request/Expense | Approving Requests & Expense Reports | PDF | video |
| Other | Allocating Expenses | PDF | video |
| Other | Entering a Department Limit | PDF | |
| Other | User Preferences | PDF | |
| Other | Concur Mobile | PDF | |
3. Travel Checklists
The following checklists provide resources for what to do before, during and after your travel.  You will find information on travel planning, international travel, and departure.
Travel Planning Checklist
Review the College's travel policy
Check with supervisor/budget manager regarding departmental requirements
Enter travel request at least one week prior to travel in Concur (add link to Concur)
Book travel arrangements: Airfare, ground transportation and hotel.
International Travel Checklist
Acquire applicable travel identification (e.g. passport/visa)
Learn more about required VISAs or other necessary travel documents:
You may be required to obtain a VISA or other travel documents in addition to a passport.  It is your responsibility to ensure that you have the correct VISA type for the activities that you are undertaking in the host country.  Give yourself at least 3 months in advance of your trip to obtain a VISA. Information on entry/exit requirements for U.S. citizens can be found on the appropriate U.S. department of State country information page: https://travel.state.gov/content/travel/en/international-travel/International-Travel-Country-Information-Pages.html 

VISA requirements may be different for citizens of countries other than the U.S. Non-U.S. citizens should review the host country's embassy website to identify entry and exit requirements for the host country applicable to their nationality.  

Travelers may need a letter of invitation from the host country to get a VISA. This letter can generally be obtained by the person who invited you to the country, or, for the conferences, check the conference website for VISA entry letter information.

Obtain appropriate immunizations
Confirm necessary insurance coverage (e.g. medical)
If necessary, confirm currency exchange rate and credit card usage for travel destination
When traveling abroad, confirm if travel adaptor is necessary
Departure Checklist
Check airline baggage/boarding rules
Check travel advisories for destination
Check your flight status
Share itinerary and other travel details with department/family/friend
4. Mobile App Toolkit
Concur Mobile App Goes Where You Go
The Concur mobile app is linked within the Concur tool and compliments the online booking tool allowing travelers access to manage their travel and expenses wherever they are.  Smartphones with the Concur mobile app can book and manage itineraries. Business travelers can manage trips as well as book taxis, hotels, rail, and rental cars – all from your mobile device. Travelers can access important travel information when it isn't convenient to use a laptop.  The application is free and there are no transaction fees.
*Please note that the "Request" feature in the Concur mobile app is currently only available on the iPhone and not on Android. 
For further information regarding the mobile app, including video and PDF guides on how to download and use the app, please visit the Concur Mobile App Site.
Tripit Pro Organize Your Travel
Tripit Pro gives you all the benefits of the free Tripit service – all your travel plans in one place and access on your smartphone, in your calendar or anywhere online – along with premium features, including:
Flight Alerts – text/e-mail alerts for delays or cancellations and helpful reminders
Airfare Refunds – alerts you if you're eligible for a refund or credit on U.S. flights
Alternate Flight Search – instant access to view alternate schedules and open seats
Point Tracker – access all your frequent traveler points in one place
TCNJ has joined forces with Concur to improve your travel booking & trip management experience. To make this possible, we are pleased to provide you with a complimentary subscription to Tripit Pro. It's like having your own personal travel assistant to keep you organized and in the know while you're traveling.   Follow the simple steps below to connect your Concur and Tripit accounts, and to start your Tripit Pro membership. Once you're up and running, you can continue to book travel through Concur, and your plans will automatically show up as an itinerary in Tripit.
Getting Started
When you login to Concur, look for Tripit on your home screen. Click the button for Tripit sign-in (for existing Tripit users) or sign-up (for users new to Tripit) to link your Concur and Tripit accounts. After you complete the process, your Tripit Pro subscription will start within 24 hours. Upon activation, you will receive an e-mail from Tripit Support welcoming you to Tripit Pro.

To stay connected on-the-go, download Tripit for iPhone®, iPad®, Android®, BlackBerry® or Windows® Phone.

Add your loyalty point programs to the Point Tracker tab. Tripit Pro will start monitoring your point balance and recent activity.
Personal Trips
If you decide to add a 'personal' trip to your TripItPro account – you will need to edit the trip and mark it as 'private' which will then disable the sync to Concur. To edit the trip, you need to select the trip on the mobile device, select Edit (pencil icon), then modify the Privacy setting to 'make trip private' and Save.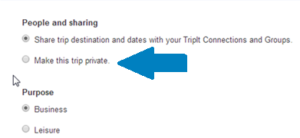 5. Preferred Vendors
Local Preferred Hotels for Visiting Guests include:
Spring Hill Suites by Marriott in Ewing: (609) 323-3030
The Element by Westin in Ewing: (609) 671-0050
Preferred Car Rental Agencies include:  
The following companies are the College's preferred rental car agencies.  These agencies honor State of New Jersey negotiated pricing and include the required insurance in their rates.
Enterprise   Please use TCNJ account number 17E7672 when booking.
National   Please use TCNJ account number 17E7672 when booking.
Hertz   Please use TCNJ account number 2168516 when booking.
Dollar Rent A Car  Please call Dollar directly at 1-800-800-4000 to make reservations and use TCNJ account number 3046847 when booking.
6. Travel Card Program
The College of New Jersey's Travel Credit Card program was established to provide employees a more efficient and reliable method of paying for expenses incurred while traveling on behalf of the College of New Jersey. The card is a privilege granted to individual personnel, and is to be used only for approved business travel expenses.  Card activity is subject to periodic audits to verify appropriate use.  Any unauthorized or intentional misuse of the card will result in the revocation of the card, and may be accompanied by personal and/or criminal charges. Please Note:  All College-related travel must adhere to the College's travel policies.
For additional information including details on how to get a Visa Travel Card, please visit the: